#WorldWhiskyDay2019 at Lagos Irish Pub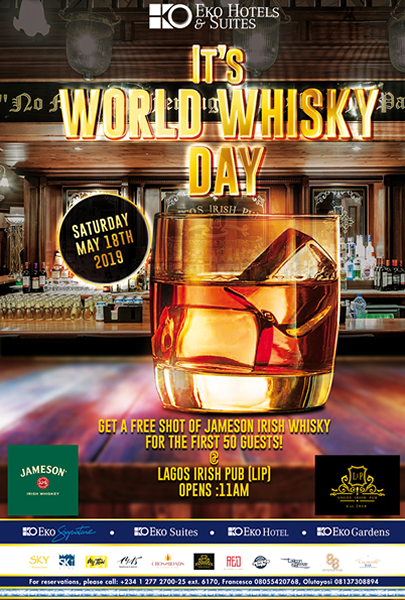 "Love makes the world go round? Not at all. Whisky makes it go round twice as fast."- Compton MacKenzie
Man's relationship with whisky is not only that of man and liquid but a mutual bond that keeps on evolving. Raymond Chandler once said "There is no bad whiskey. There are only some whiskeys that aren't as good as others". Whisky, like a beautiful woman, demands appreciation. You gaze first, then it's time to drink.
Whisky is liquid sunshine, it brightens your day and your world with every sip. Some folks may see it as a beverage of leisure but it's more than that, it's serious business. Truth be told, every great idea probably started with a bottle of whiskey.
Join us this Saturday, May 18, at the Lagos Irish Pub to celebrate the rich taste of Irish Whisky. Lose yourself in the biggest Whisky event in Lagos. Enjoy the smooth tunes of the live band with friends over amazing whisky. Hurry down… the first 50 guests get a free shot of Jameson Irish Whisky.
Happy World Whisky Day!!!